EBOOK
5 Best Practices from Law Firms That Are Growing and Succeeding Boldly
Firms are enjoying exponential growth because they're financing with Esquire Bank. Download our complimentary eBook and find out how they're investing in growth and the lessons they've learned along the way.
Download Free eBook
View Infographic
What Does Bold Success Mean to You?
Tell us your top priority and we'll share a story from a firm that is doing it right now. Have more than one goal in mind? Explore our other stories too.
GROWTH ASSESSMENT
Is Your Law Firm
Ready for Growth?
Use our insightful Growth Assessment tool to see if your firm is well-positioned for growth. Find out what stage of growth your firm is currently in and the next steps you should take to drive growth for your contingency fee law firm.
Start Assessment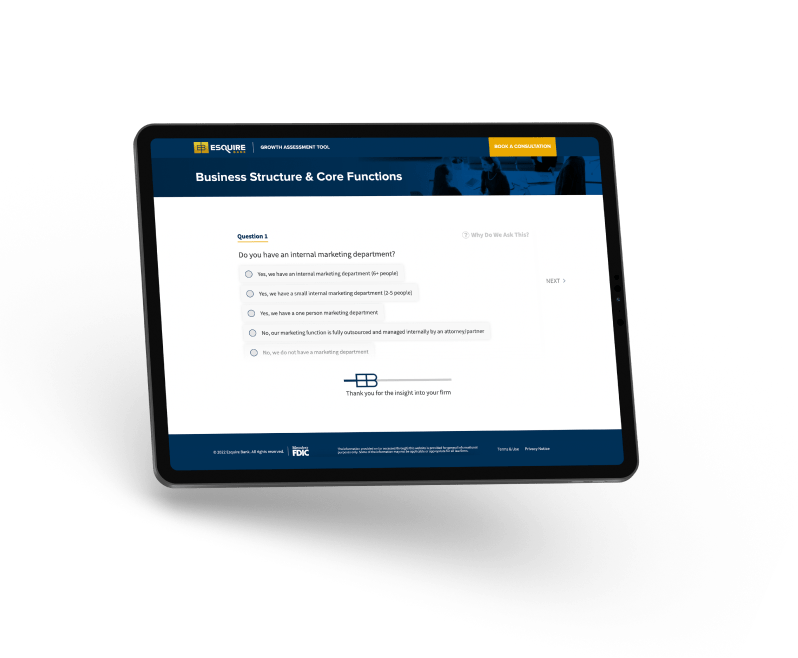 "…I can do my job, which is try cases and win them or settle them, knowing full well that they have my back. And when you're in a business in which you have to win to eat, somebody that has your back is a very valuable partner."
-Martin Edelman, Co-founder, Edelman & Edelman
"…We could put money into cases that is necessary and without regard to penny pinching… Esquire Bank is a partner with us in that effort by financing the costs."
-Phil Russotti, Senior Partner, Wingate, Russotti, Shapiro, Moses & Halperin, LLP
"I gave [my new COO] all that work to free my mind, so I could actually go out and get the mass tort cases that I could do to make a change in this world."
-Mick Grewal, President & CEO, Grewal Law